As part of Clerkenwell Design Week's sixth annual show in May, Sto Werkstatt will present a new multisensory and interactive installation. Hypnos: The architecture of sleep has been created in collaboration with international design practice HASSELL and London based Draisci Studio. The design teams have joined creative forces to present a unique and immersive environment exploring the architectural spaces needed for physical and mental rest.
With patterns of sleep shifting and changing, working practices stretching and blurring, the day job becomes the night job; the office, the home. Taking its name from the personification of sleep in Greek mythology, Hypnos explores the method of creating environments that respond to our ever increasing resistance to conventional patterns of rest and sleep.
Although we still refer to conventional units of time like 'nine to five' or 'Monday to Friday', networked global communication and exchange has overlaid this with practices of individual time management and simulated busyness. We see this in the form of scheduled tweets while we sleep or pre-emptive emails timed to reach the inbox of an overseas colleague for 9am. Hypnos looks at these issues through the lens of architecture. For Sto, Hypnos is an opportunity to explore with our highly skilled collaborators—HASSELL and Draisci Studio—the social effects of our own global network which supports architects to realise trans-national projects and to consider the potential for a range of our systems and finishes to promote well-being and aid physical and mental withdrawal.

– Amy Croft, Curator at Sto Werkstatt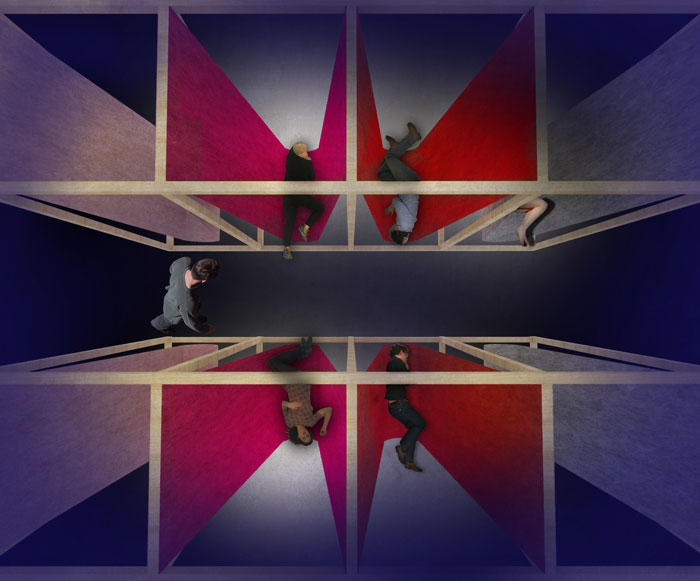 Mobile technology is allowing the notion of work to blur into all other aspects of our lives, 24/7. So, focusing on sleep and rest and the ability to 'switch off' is an important concept in fostering the notion of health and wellbeing in our daily working lives. HASSELL has addressed some of these issues in our own research, but having the opportunity to tackle them in such a creative setting has been fascinating.

– Julian Gitsham, UK/Europe practice leader for architecture at HASSELL
The installation will feature coloured hammocks—or sleeping pods—made of felt strips hanging from tall wooden beams spaced throughout Sto Werkstatt's main gallery. Here, participants will be cloistered from the hectic commotion of daily life and invited to immerse themselves in the pleasures of inactivity. A series of subtle interventions aim to stimulate the senses; whispered stories, dimmed lights, warm textures and colours all serve as catalysts for true withdrawal.
Sleep is mysterious. It cannot be avoided, only delayed. Could there be a future scenario in which a new typology of 'public sleeping parlours' populate our city streetscape? Will the lack of night sleep for many, create a future generation of day-nappers? We have collaboratively investigated these ideas to create a narrative environment that will explore future sleeping concerns.

– Francesco Draisci, Creative Director at Draisci Studio
Hypnos: The architecture of sleep will run from the start of Clerkenwell Design Week, opening 19th of May 2015, until the end of the London Festival of Architecture, closing the 30th of June 2015. Throughout Clerkenwell Design Week, visitors can experience the installation in Sto Werkstatt's exhibition space (7-9 Woodbridge St, London EC1R 0EX), from 10am to 7pm, Tuesday through Thursday, or by appointment.