The 2015 Toronto Interior Design Show got off to a great start yesterday. With design selections from more than 300 exhibitors, there is no shortage of creativity. We have put together some of our top picks from the show, from conceptual work, to new launches and innovative products. Let us know what are your top picks, and if you are in Toronto make sure you stop by Metro Toronto Convention Centre.
Cubitat by Nichetto Studio & Urban Capital – Booth 600
Going into the show we knew one of the booths we really wanted to see was Cubitat, and it completely exceeded our expectations. The new concept by Nichetto Studio & Toronto based Urban Capital is a multi-disciplinary, fully-integrated plug-and-play cube that contains all the essential elements for habitation: kitchen, bathroom, bedroom, lounge and storage. The cubical structure can be easily transported and plugged into an existing outlet, giving you all the necessary functions of a home. The concept is brilliant! Cubitat alone is worth the trip to IDS this year.
Lightform + rhed – Booth 1700
Lightform has teamed up with rhed to create an exhibit that examines the future of living through transformable design with a mobile architecture concept. Lightform showcased FLOS' String lights, a great modular lighting system that gives you endless possibilities. The system comes with 40m of string and several pendants that can be repositioned as you see fit. Each light can be individually controlled by the touch of a finger.
If you remember the Follow Me Lamp by Marset we featured, this is your chance to see it in-person. Lightform also has a contest running during IDS that might get you a Follow Me Lamp. See more details here!
kinder Ground – Booth 120
kinder Ground is an innovative modular carpet system that allows you to bring out the creative side in yourself. The system features several tile shapes, patterns and colours that can be combined in endless ways. We love that none of the shapes offered are the typical rectangular! Stop by kinder Ground's booth. Trust us it will make you see carpet in a whole new way!
Studio North Exhibit
Each year, Studio North Exhibit is the part we get most excited about. If you like seeing new designs from independent studios, this is the place to see, and this year is no exception. There is a great selection of innovative designs and one-of-a-kind pieces. Here are some of our favourites.
Quake Furniture – Booth SN33
Designer Lisa Turner draws her inspiration from Vancouver's nature. After the 2011 massive earthquake, the Juan Fuca Table was born reflecting the misconception of the earth's stable surface. The Quake Table takes inspiration from drawings of bark patterns enhancing the relationship between the organic and the industrial. Newly launched, the Locarno Table features a filigree marble top inspired by stones that bridge the sea and the sand.
High Table by EHO EHO – Prototype Booth
This multifunctional table by EHO EHO is ideal for small spaces, and can be easily used as a work desk or a console. The metal hair pin style legs and contrast between materials emphasize the minimalist form. The off-center dropped box integrates storage in an elegant way.
Exocet by Designaurium – Prototype Booth 
Exocet is the first piece of furniture created by Stéphane Leathead, designer and creative director of Designarium. The elegant chair can be used in a variety of ways as the core of the chair allows for it to be repositioned in standing, lounging, and sitting positions. The design is currently pending patent.
Cut-Fold by Andrea Kordos and Tony Round – Booth SN37 
The designs of Andrea Kordos and Tony Round explore the possibilities of folding simple shapes to create beautiful objects. Cut-fold showcases several of their designs such as the Origami Chair and Aperture Pendant. All of their pieces have a distinguished elegance with movements that feels effortless. It almost brings the pieces to life.
Foxwedge – SN15 
You can't miss the Decomposition Table by Foxwedge. It simply draws you in. Inspired by the fragmentation of a digital image the tabletop seems to fall to the ground and become on of the legs. The play of light and shadow emphasizes the decomposed structure creating enchanting patterns.
Scan West Design – SN09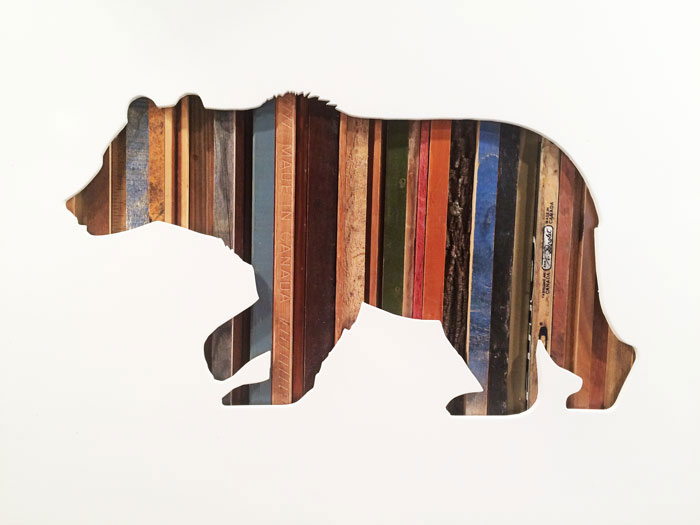 It is not often you can get excited by door designs. Scan West Design simply takes doors to a new level. Each design features textural patterns integrated into the slab doors, from subtle elegant inserts to more playful approaches such as their Silhouette door. If you have a chance to see them in person let us know which one is your favourite.