After first presenting us with the coffee set Sucabaruca for the first time at Mjölk gallery/shop in Toronto, Luca Nichetto and Lera Moiseeva are returning to present an exhibition that will unveil the birth of the product, as well as insights on the production. Titled "TOTEMICA", the exhibition will take place at the Istituto di Cultura Italiano di Toronto, where Sucabaruca, as well as Aureola will be presented. The exhibition will have its opening date on the 26th of June, 2014, and will be open to the public until the 16th of September. See more official information bellow.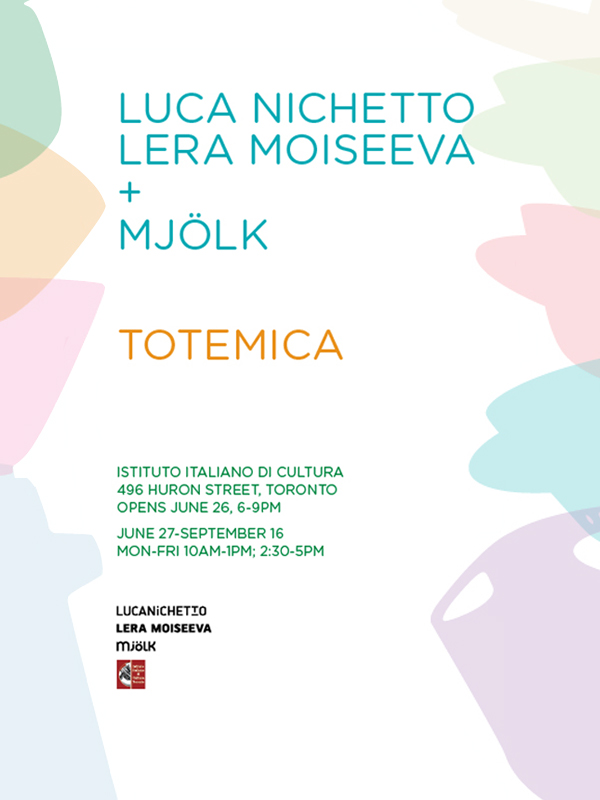 Official Press Release
The rituals of sharing drinks, such as coffee and tea, are very common activities that date back to very ancient times and that have been handed down to the present day not without changing in many ways over time and across the various geographic areas in which they developed often losing the social value that, in the past, characterized them. Luca Nichetto and Lera Moiseeva have long been fascinated by these rituals of sharing, which often surround the most diverse social relationships between people. Their study led the two designers to create the coffee set Sucabaruca and the tea set Aureola, which seek to bring the almost sacred importance these rites convey back to our consciousness.
As two "totems", the coffee set and tea set protect and enhance the meanings of the rituals they represent. With Totemica exhibition, at Istituto di Cultura Italiano di Toronto, Luca Nichetto and Lera Moiseeva, unveil the birth of a product, from initial concept, production, and realized prototype. The exhibition sheds light on the behind the scenes of how a product is made as well as a focus on the unique materials and hand crafted elements found in both Sucabaruca and Aureola.
Sucabaruca, created by and shown for the first time at Mjölk gallery/shop in Toronto, on the occasion of a solo exhibition dedicated to the Venetian designer, and, later, displayed at Spazio Rossana Orlandi during the Salone del Mobile in Milan, was developed to celebrate the rite of filtered coffee, very common in Scandinavia and throughout North America. The Aureola tea set, also created by Mjölk, thanks to the skills of the Canadian ceramist Alissa Coe, and displayed for the first time at the Italian Cultural Institute in Toronto, thanks to its acting director Adriana Frisenna, aims at enhancing the ritual of tea, which originated in Asia and then spread around the world.
Location: Istituto Italiano di Cultura, 496 Huron Street, Toronto, Canada
Opening Data: June 26th 2014 Time: from 6 to 9pm Date: June 27th – September 16th
Time: from 10am to 1pm and from 2.30pm to 5pm
*All information courtesy of Luca Nichetto.