Sanjay Puri Architects have completely transformed an old factory warehouse into a restaurant and nightclub in Mumbai, India. The exterior walls have been stripped down to allow natural light flood the interior, and offer a stunning view of the large trees along the road.
The lower floor, opening into an outdoor patio, was transformed into a nightclub, while the better view from the second floor was allocated to a full service restaurant. The entire exterior of the building was designed in "a web of aluminum fins", that fold in angular planes. The geometry was carried through into the interior spaces. The lower floor was abstracted further, with walls, ceiling, columns and stairs being wrapped in aluminum strips. The galvanized metal sheets are backlight, transforming the entire space into a sculptural experience.
A black palette acts as a backdrop for the metal web, with ceiling, walls and dark grey granite floor blending together. A staircase connects the industrial metal dominated nightclub to the more softer wood enclosed restaurant. The deconstructed angular geometry was continued in the upper floor restaurant, featuring thin wood strips that wrap around the walls, ceiling, live kitchen counter and serving bar counter.
The two floors are in complete contrast, one dominated by steel and the other by wood. The two spaces couldn't offer a more different experience, yet they seem to complement each other seamlessly. Both spaces create a sculptural experience for visitors .
On all interior sites large amounts of plywood strips are generated as residue which is then wasted. Upon seeing large piles of such wastage on the interior site of a hotel, the idea took germ of creating a design that would use these leftover strips to create a design thus reducing the material cost to a negligible amount & simultaneously using waste material which would otherwise be disposed off.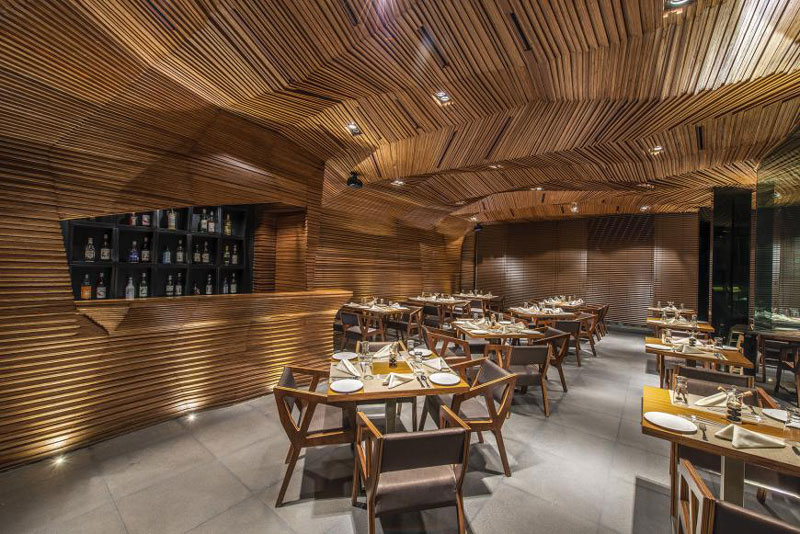 The lighting was almost done entirely achieved with energy saving LEDs, the stone flooring was locally sourced, and the windows were double glazed to reduce heat gain in response to the city's climate which has an average temperature of 30°C-35°C through most of the year.
Auriga was shortlisted this year for the 2014 INSIDE Festival.